Joint the event-CFIA rennes 2023 – france – march 14 to 16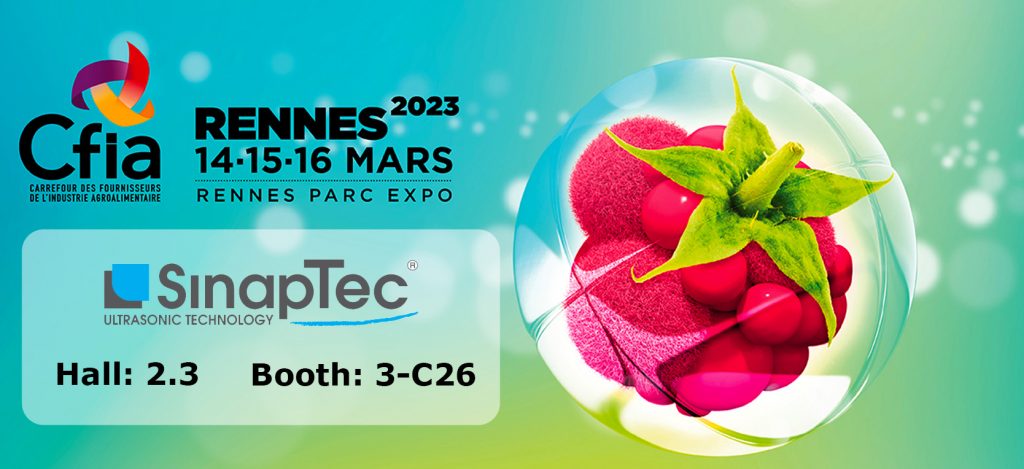 We are excited to announce our participation in the CFIA Rennes 2023 trade show, taking place from March 14th to 16th, in Hall 2.3, at Stand 3-C26.
This is an essential event in the food industry and will bring together the most important players in the sector. SinapTec will have the opportunity to showcase its innovative ultrasonic solutions to improve production and packaging processes in the food market.
As a specialist in ultrasonic solutions, we will highlight our products that incorporate the latest technologies to help companies increase productivity, quality, and profitability in their manufacturing processes.
In our video, you can discover our ultrasonic applications in the agri-food industry, including:
✅ Slicing (pastry, dairy products)
✅ Cleaning
✅ Degassing
Join us at the CFIA Rennes 2023 trade show, where we'll be eager to discuss your challenges and opportunities with you. Our engineers will be available to answer all your questions.
If you would like to schedule a meeting with our engineers, please contact us by phone at +33 (3) 20 61 03 89 or send us an email at sinaptec@sinaptec.com.
Our team will get back to you promptly.
If you haven't created your badge yet, please do so by clicking the link below:
CFIA RENNES 2023 – Accreditation (cfiaexpo.com)
See you soon!