SINAPTEC OFFICIALLY CANDIDATE FOR FEDEX SMALL BUSINESS COMPETITION
SINAPTEC IS A PARTICIPANT IN THE 2021 FEDEX SMALL BUSINESS GRANT COMPETITION!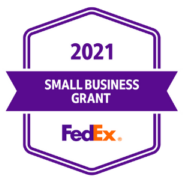 FedEx has launched a competition for small businesses in Europe.
Fifteen  finalists will be selected to compete for the Grand Prize (€50.000) or one of the three Judges' Choice Awards: Digital Excellence, Sustainability Champion, and Innovation Mastermind (€15.000 each). In addition to the finalists competing for one of the four prizes awarded by the jury, the non-finalist companies take part in the public voting phase and can win the People's Choice Award in their country, leading to 15 additional winners who will receive €10.000 each.
SinapTec has applied for the People's Choice Award as an Innovation Mastermind (that we are 😉 ).
The 15 finalists will be announced on 17 November 2021 and public voting for the People's Choice Awards will be opened.
If SinapTec is selected for 2nd round, we will need your support and your vote to win!
Until then, head over to the Participants Gallery to check out our profile!