Ultrasonic spraying
Depending on the application and your requirements, we will support you in choosing the most appropriate ultrasonic spraying solution for: humidifying buildings; fine layer spraying; air freshening; the production of tracers; controlling confined atmospheres; medicinal aerosols...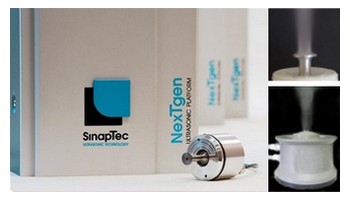 This device allows the regular production of uniformly sized droplets, whilst consuming very little energy.


The electronic
generator
from the
NexTgen
range has an ultrasonic
nozzle
or
ultrasonic sprayer
. The electrical energy supplied by the generator is transformed by the nozzle / transducer into vibrations. The liquid passes through the orifice at the centre of the sonotrode, and is sprayed in micro-droplets when it is in contact with the vibrating surface.
60 or 80 kHz ultrasonic spray nozzle

Ultrasonic power : 25W
Size : 25 µm at 60 kHz / 35 µm at 80 kHz
Maximum flow : 5-80 ml/min
2,4 MHz ultrasonic sprayer

Ultrasonic power : 20 W
Size : 2.5 µm
Maximum flow : 1-7 ml/min
Documentation:
Our support services for your ultrasonic spraying application:

By choosing our equipment and the services that we provide,
you guarantee the success of your project
.
We are committed to:
listening to your requirements to ensure we understand them and can help you to design the hardware and software configuration;
training you in the commissioning and integrating our equipment;
ensuring equipment monitoring, tracking and maintenance;
facilitating / anticipating future developments owing to the flexibility of our equipment.
See also: