Ultrasonic cutting / ultrasonic welding of food products and plastics
Depending on the application and your requirements, we will support you in choosing the most appropriate configuration: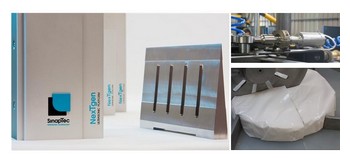 In the food processing sector, the vibrating blade is used for ultrasonic cutting of cakes, desserts, sandwiches, tarts, pizzas, confectionery and ultrasonic slicing of cheeses, pâtés, terrines...

In the technical textiles, plastics processing, toy, and packaging sectors, ultrasonic cutting or ultrasonic welding is used for punching, deburring, riveting, assembly, heading, tagging... The device may take the form of a manual tool, or a transducer integrated into an automatic machine.

The electronic generator from the NexTgen range has a combined transducter / booster / sonotrode (blade or welding tool). The electrical energy supplied by the generator is transformed by the transducer into vibrations.
Ultrasonic slicing, cutting
Ultrasonic rotating blade (patent): 20 kHz / 1000 W
Ultrasonic cutting blade: 20 kHz / 1000 W
Documentation:
Ultrasonic welding, punching, spot welding, riveting
Ultrasonic press tool: 20 - 30 - 35 kHz / 50 - 1000 W
Continuous ultrasonic cutting / ultrasonic welding tool : 20 - 30 - 35 kHz / 50 - 1000 W
Documentation:
Our support services for your ultrasonic welding or cutting application:
By choosing our equipment and the services that we provide,
you guarantee the success of your project
.
We are committed to:
listening to your requirements to ensure we understand them and can help you to design the hardware and software configuration;
training you in the commissioning and integrating our equipment;
ensuring equipment monitoring, tracking and maintenance;
facilitating / anticipating future developments owing to the flexibility of our equipment.
See also: