Ultrasonic defoaming, blowing without contamination

Depending on the deforaming application and your requirements, we will support you in choosing the most suitable anti-foam configuration for use in filling or bubbling processes, and also for blowing in confined environments.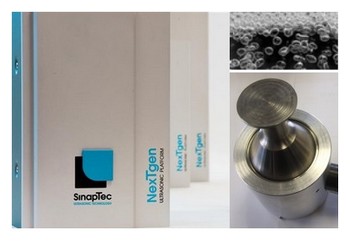 The electronic generator from the NexTgen range has a combined ultrasonic transducer / sonotrode. The electrical energy supplied by the ultrasonic generator is transformed by the transducer into vibrations which create an acoustic blow without the any external air input, and consequently without any contamination.


Ultrasonic defoaming blower
Anti-foam Doc. :
Our support services for your ultrasonic blowing application:
By choosing our equipment and the services that we provide, you guarantee the success of your project.

We are committed to:
listening to your requirements to ensure we understand them and can help you to design the hardware and software configuration;
training you in the commissioning and integrating our equipment;
ensuring equipment monitoring, tracking and maintenance;
facilitating / anticipating future developments owing to the flexibility of our equipment.